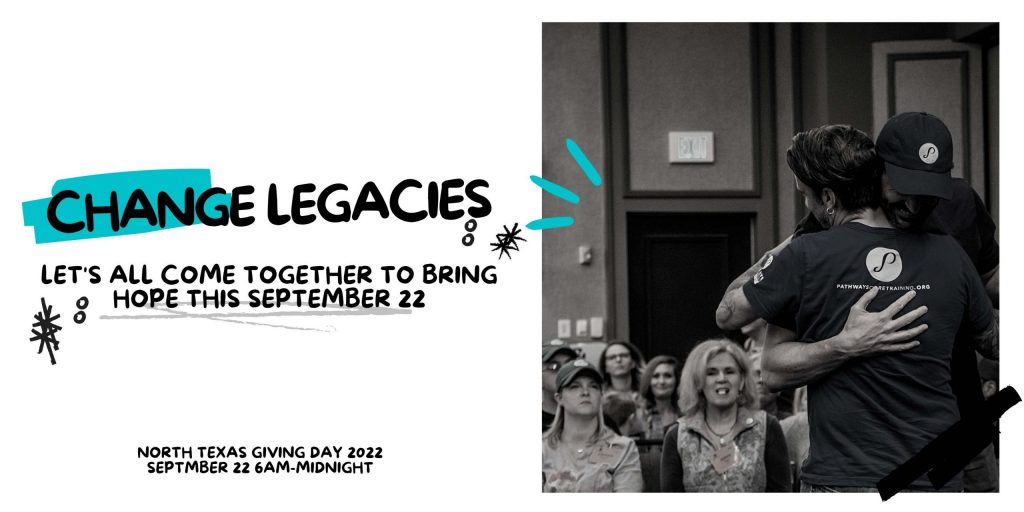 Did you know Pathways is a non-profit? That means every dollar we bring in goes directly back into changing legacies and bringing hope! As a non-profit, North Texas Giving Day is a HUGE opportunity for us to raise the funds we need to keep this mission alive.
This year, we've set a goal of $30,000. Since you gave over $20,000 last year, we feel confident that the Pathways community can go even bigger this year! We know this seems like a big number, especially with the current economic situation we're in. BUT, if each of us who've been helped by Pathways gave even $10, we'd have no problem passing our goal! Remember, it's not about how much you give; it's just about giving.
We have a few different giving options available to you. As always, you can make a one-time donation of any dollar amount; anything from $5 to $5,000. You can also set up a recurring monthly gift that will help us throughout the year to come. In addition, we've set up some specific donation amounts to make things easier:
$37 (Celebrating 37 years of Pathways Core Training!)
$50
$100
If you're like us, you understand how vital this program is to so many! It's the generosity of those who've experienced the hope Pathways has to offer that's kept our doors open, especially through the pandemic. Would you consider being a part of something bigger by giving towards our $30,000 goal? Let's change legacies together!